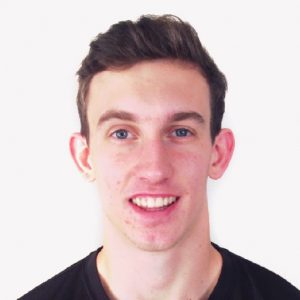 Certificates:
BSc in Exercise Science
REPS Level 3 Personal Trainer
Performance Cycling Level 1
CrossFit Level 1 Trainer
Specialities:
Fat Loss
Muscle Toning
Circuit Training
Functional Movement
HIIT/Interval Training
About Me
In December 2013, I was 6'2' and weighed 10 stone (63kg). I was underweight, weak and heavily relied on my cardio ability to get me through workouts. In January, I made it my New Years' resolution to go to the gym at least three times a week for the whole year. I found a trainer at my university and he taught me how to use all the equipment; he put me on the road to a healthier lifestyle. Within weeks I felt stronger, fitter and more confident. Now it's my job to help people make that step from everyday life to greatness.
"We are what we repeatedly do. Excellence, therefore, is not an act, but a habit."– Aristotle