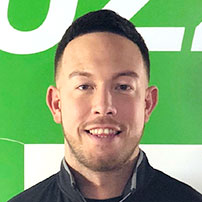 Club Manager
Certificates:
• MSc Sport Management: Passed with Merit
• BA (Hons) International Business and Management: 2:1
• Premier Advanced Level 3 Personal Trainer
About me
Having first been introduced to training at University, it's fair to say that I caught the bug quickly, and it was whilst I was completing my International Business and Management degree that I decided I wanted to pursue a career in the fitness industry. Upon completion of my degree I undertook the Premier Training Advanced Level 3 Personal Trainer course before spending the next 5 years as a self-employed personal trainer. I thoroughly enjoyed that experience, but the desire to move back into a management based role gradually increased, and so I returned to University to complete a Masters Degree in Sport Management.
After that I quickly find myself managing a boutique fitness studio, taking it from it's opening to break-even and beyond within 8 months. Feeling ready to progress onto a more challenging position in a larger facility, the opportunity to manage Buzz Gym Reading arose, and here I am now.
My aim for the gym is to make it somewhere where people actually want to come to train, and not be somewhere that they come to because they feel like they have to. My first experiences of gyms were the traditional, underground bodybuilding type places and I'd love to instil some of the amazing community
feel that those gyms have. On the other hand, much of my personal training career was spent in a £80 a month health club, so I have an awareness of the level of standards and customer service that come with that. My ambition is to provide Buzz gym with the best of both worlds, and I'm sure that by working
together we can achieve that.