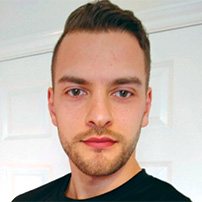 Qualifications:
• Personal Trainer
• Nutritional Therapist
Specialities:
• Fat Loss
• Muscle & Strength
• Health Optimisation
• Postural correction
If you are struggling to achieve the body you desire or to make consistent progress towards your goals, working with a professional can be a great see the results you want.
So why choose to work with me?
Working with me will enable you to:
• Be the body-weight you've always wanted to be
• Burn stubborn areas of body-fat that you hate to see
• Build a strong, lean, muscular physique
• Get you results in the fastest, most effect way possible
• Give you the knowledge and confidence for long-term success
If you are ready to make a change and get real results, then I would love to hear from you as I am passionate about helping others achieve success!
If you need some tips in the gym I am always happy to help. Alternatively contact me via phone or email and I will get in touch as soon as possible.